School car park zones are busy areas, and for this reason they can be extremely dangerous. Improper safety measures can have severe repercussions. This article will discuss the use of appropriate signage, speed bumps and other safety measures in a School car park.
Car park areas are low speed environments, and thus are generally considered low risk. However, children are highly vulnerable as pedestrians, increasing this risk exponentially. In comparison to adults, children have extremely low peripheral vision. When focusing on simple tasks, such as walking across the road or reading an advertisement on the side of a bus, children become distracted. This fact greatly increases their susceptibility to danger in car parks and other "shared" zones.
As every school varies in size and location, it can be difficult to specify exact safety measures that must be put into place to protect pedestrians. However, certain procedures can be implemented in all schools that will increase the safety of these volatile spaces.
School Zones
School zones are areas around the school that enforce lesser speeds. These zones are usually active around each school's start and end times, or can be active in effect during the school day. These specified times periods are usually indicative of the frequency by which each zone is used by the surrounding school and pedestrians. These areas are identifiable by clear signage.
In a school zone:
- Parking restrictions are likely to be stricter than usual. This is designed to make it easier for parents and guardians to park closer to the schools' premises. This way, there are less pedestrians – especially younger school children – on surrounding roads.
- There may be a pick-up and drop-off area where long-term parking is not permitted. This area is designed for quicker drop off or collection of children. It is located close to or directly across from school gates.
In Australia, the speed limit is generally reduced to a maximum of 40kms in school zones. These areas are heavily patrolled by police and speed cameras. Pedestrian crossings are also frequent in school zones, and cars are required to stop frequently.
School Zone Speed Limits in Australia:
- 40km/h on roads where the normal speed limit is 50/60/70km/h
- 60km/h on roads where the normal speed limit is 80km/h
- 60km/h or 80 km/h on roads where the normal speed limit is 90/100km/h
- 80km/h on roads where the normal speed limit is 110km/h.
School Crossings
Pedestrian crossings are provided at a majority of schools to help students and parents or caregivers cross the road safely on the way to and from school. Some crossings have designated school crossing Supervisors. These people use clear signage, labelled 'STOP' or 'SLOW', to direct traffic accordingly. If a supervisor directs a driver to stop, the driver must comply by law. These supervisors will act on behalf of the children, and make sure that all pedestrians are able to cross safely. If a crossing supervisor is not present, pedestrians must use a designated 'Zebra' crossing.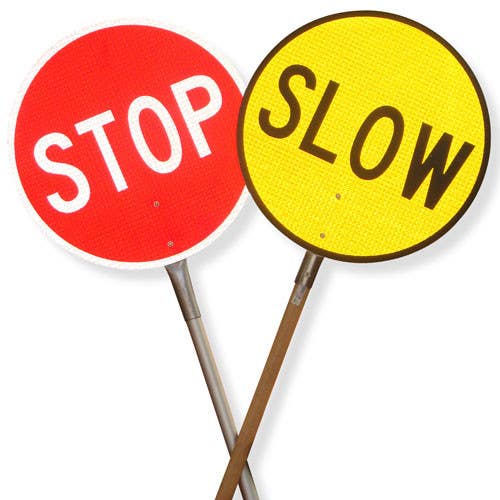 Pick Up and Drop Off Areas
Such areas are in place to increase the ease of picking up and dropping off school children. They are not intended for long term car parking, and fines can apply for misuse. Some school drop off and pick up areas can be signed differently. These areas create a safe environment for children to move to and from cars, and are intended to keep traffic moving. Drop-off and pick-up areas are signed with passenger 'Loading Zone' signs or '2 minute'/ '5 minute' parking signs. These signs indicate that drivers have a maximum of 2 minutes to drop off or collect their children.
DID YOU KNOW: In zones marked 'No Stopping' and 'Loading Zone', a driver is prohibited from moving more than three meters from their vehicle.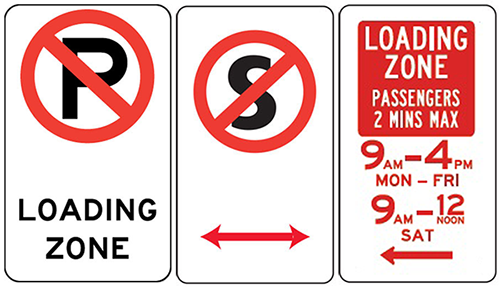 Speed Control
In order to further control the speed of vehicles, schools may place speed bumps in school cap parks or on roads surrounding schools. These are designed to slow vehicles and to further protect pedestrians. Unlike signage, which can be missed or misread by a driver, a speed bump is a more effective measure at controlling the speed of vehicles. Studies have indicated that speed bumps decrease the likelihood of speeding, especially aggressive speeding, in school zones and car parks. Speed bumps can also jolt a tired driver awake, and help to keep drivers alert.