At Bronson Safety we bring the store to you. We are a proud Aussie company with over 10,000 items in stock and ready to go. We pride ourselves on our fast delivery times. Our team really do try to help, whether you need advice on the best solution to a problem or help with billing or shipping, we genuinely care. If you are someone who takes pride in your facility and the safety of your people, you will find us to be kindred spirits.
---
In-Store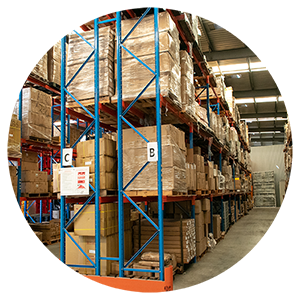 Our distribution centre carries over 10,000 items in stock. You are welcome to come and test items in-store or chat with our staff - we might even challenge you to a game of ping pong.
Online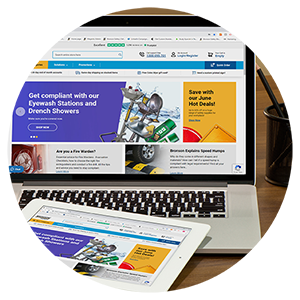 Our website keeps up to the minute information on stock
levels so you can be sure of fast delivery. We also provide
lots of handy "how-to" Tip Sheets and Videos.
---
Extensive Range
At Bronson Safety we try to find a balance in our product sourcing so as to always support Australian companies above international competitors. Where possible we always choose to buy locally, assuming that our strict quality control measures are met. However, we also partner with many global brands such as 3M, JustRite, MSA, Honeywell, Tensator and many others. These companies have proved themselves to provide consistent quality and reliability in even the most demanding environments.
One thing that helps us to stand out from the crowd is our stocking policy. We are not afraid to carry large quantities of popular products for our customer's large jobs and contracts so that we can get the products out as soon as they are ordered. We also develop and source many custom products for customers. If you have a specific need and can't see it in our catalogue or website, just give us a call to discuss. We have provided hundreds of customised solutions to customers all around Australia.
---
Special Offers and Account Benefits
You will find Bronson Safety to be a very competitively priced supplier. We are constantly being told by customers that they wish they had found us sooner. On top of our usual low prices, we also offer regular Hot Deals on some of our most popular items. Sign up for our monthly alerts so you don't miss out.
If you are a business, government or school buyer, we provide instant 30 Day credit accounts on the spot up to $5,000. Just check out online and select "bill my account". It's as simple and quick as that.
We can also set you up so invoices automatically go to your head office or AP department. Just let us know your needs and we will help you out.
From time to time a competitor will offer a lower price on the same item as us. We now offer a handy quote form online where you can upload the competitor information and send it to us. We will be happy to match it - no questions asked.
Did you know: You can now upload your own logo to our site and print or email pdf Product Data Sheets to your own customers. Go to your account page and check it out - It's a great feature.
Finally, we welcome your ideas for how we can improve. Many of the features above came from requests from customers just like you. Get in touch - We would love to hear your ideas.
---
Testimonials
We love all our customers and believe everyone should be treated equally - big or small.
Here is what a few of our customers have to say about Bronson Safety...